About Us
Every single structure starts with a dream. Wouldn't it be a shame to ignore it?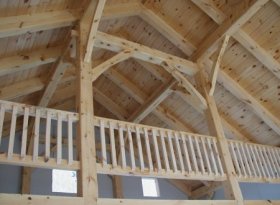 TFDesign team works together with customers to achieve desired look and expected functionality of the new building. During design process our engineers take into account construction systems, methods of erecting and assembling the house, used materials, location, and many other aspects. Deep knowledge of timber frame design and building with structural lumber and materials based on wood allow TFDesign experts to focus not only on the concept of the main house but also on fine details that make the house one of a kind.
Wide use of progressive methods ranging from 3D modeling and visualization (rendering, animation) to creating real wooden or paper models give the client well-represented, complete image of the final design.
TFDesign design projects.
---
Last modified: 2014-03-20 21:08:06